The sudden death of a young employee for Chinese e-commerce platform Pinduoduo has again underscored the grueling labor conditions that — though illegal — remain a common feature of some domestic startups and tech companies.
"My good friend, a female employee of Pinduoduo, died suddenly on her way home at 1:30 a.m.," a user on Maimai, a LinkedIn-like social network, wrote in a post Sunday that quickly went viral. "She was just 23 years old. No one (from Pinduoduo) dares to come out and say a word — really? What kind of company is this?"
For days after the death of the employee, surnamed Zhang, on Dec. 29, Pinduoduo did not comment publicly. In a statement sent to Sixth Tone on Monday, Pinduoduo confirmed the death of its staff member but did not respond to questions about whether overwork might have played a role. An official cause of death has not been announced.
"We are heartbroken by Fei's death and feel deeply for her family," Pinduoduo wrote in an English version of its statement, referring to Zhang by one character from her given name.
The post by the Maimai user claiming to have been Zhang's friend has been shared nearly 3,000 times on the platform, and now carries a warning that its content may be "controversial." The comments section below contains several reactions from users who are registered on Maimai as Pinduoduo employees. "She's not the first," one wrote. "Rest in peace. I hope (Pinduoduo's) HR will show some humanity by not reporting this post," commented another.
At the time of her death, Zhang had been in the far western Xinjiang region working on a Groupon-like discount project for Pinduoduo, according to financial outlet Caixin. The labor supervision department in Shanghai's Changning District, where Pinduoduo is registered, said Monday that it is investigating the case.
Pinduoduo faced a wave of online backlash after an image appearing to be a screenshot from the company's official account on Q&A platform Zhihu went viral for reasons that were not intended. "Look at those in the underclass: Who isn't exchanging life for money? I've never thought of this as a problem of capital, but rather as a problem of this society. We live in an era where we spend our whole lives working hard."
A Pinduoduo spokesperson told Sixth Tone on Monday that the post was fake. Zhihu, however, said Pinduoduo's account had indeed published the post before later deleting it. This in turn prompted an apology from Pinduoduo, which explained that an employee at the third-party firm that manages Pinduoduo's social media accounts had mistakenly posted the comment from Pinduoduo's official account rather than his personal account.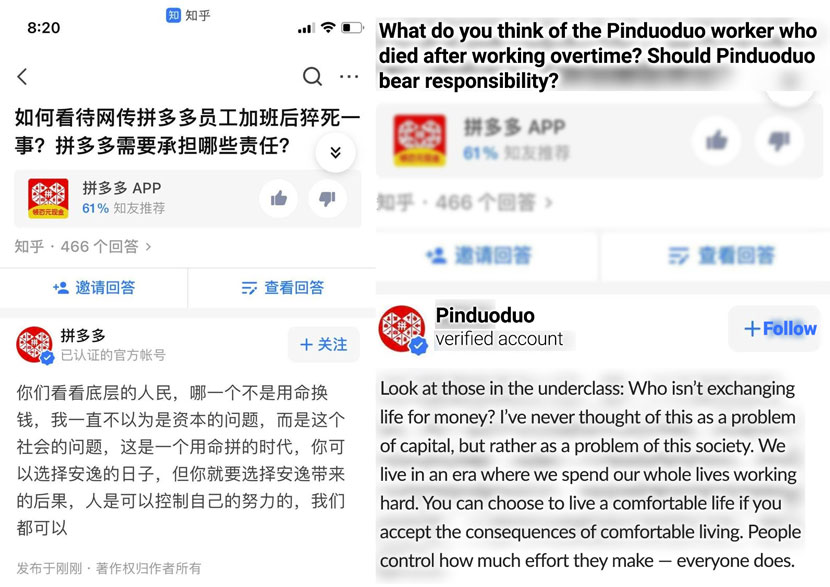 A widely circulated comment posted — and soon deleted — by Pinduoduo on Q&A site Zhihu. Though Pinduoduo initially called the image…


Read More: Overtime Culture Back in Spotlight After Pinduoduo Employee's Death