TIME magazine commemorated President Biden's first year in office with a bleak forecast. 
Marking one year since Biden's inauguration, TIME debuted its newest cover featuring a beleaguered president being rained on with a giant cloud hovering over the Oval Office. 
BIDEN'S PRESS CONFERENCE GETS PANNED BY CRITICS: 'TOTAL DISASTER'
Seen on the Resolute Desk are binders with labels that lead "inflation," "Putin," "Build Back Better," "voting rights" and "Trump 2024." 
Behind Biden are several boxes of COVID rapid antigen tests his administration vowed to send to every household in the country.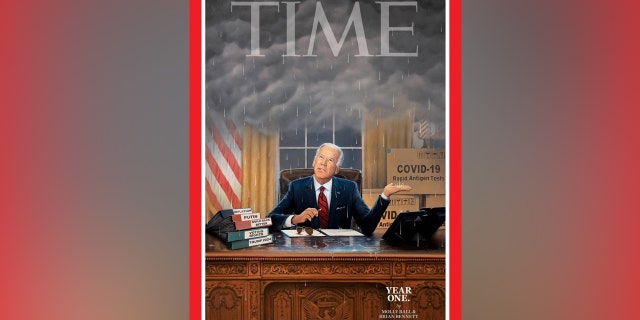 The cover story, titled "How the Biden Administration Lost Its Way," recapped a turbulent presidency.
"The fate of Biden's social-spending and climate package is more uncertain than ever. The pandemic he promised to bring to heel rages out of control. Inflation is at a four-decade high, canceling out rising wages. The border is a mess. Violent crime continues to climb. His approval rating has sunk to the low 40s," TIME correspondents Molly Ball and Brian Bennett wrote. 
BIDEN SWIPES FOX NEWS REPORTER FOR PRESSING HIM ON GROWING RUSSIA-UKRAINE CONFLICT: 'WHAT A STUPID QUESTION'
"One year in, there's a growing sense that the Biden presidency has lost its way. An Administration that pledged to restore competence and normalcy seems overmatched and reactive. Biden has been caught flat-footed by not one but two COVID-19 variants. He has repeatedly failed to close the deal with the Senate he boasted of mastering. The former chair of the foreign relations committee has presided over escalating tensions with Russia and China as well as a chaotic pullout from Afghanistan," the article listed Biden's woes.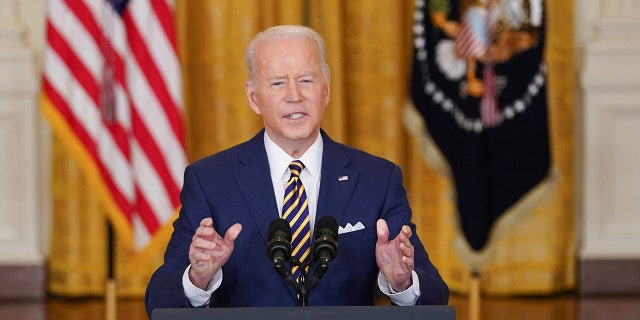 TIME called the president a "shrinking figure," noting his few numbers of press conferences than his predecessors, voters questioning his capabilities and how Democrats privately acknowledge the public is "losing faith in his leadership."
"If Biden had one job coming in, it was to get the pandemic under control," the magazine wrote. He campaigned on a plan to tackle the virus with sound science and serious policy rather than Trump's denial and quackery. Upon taking office, he installed an experienced team and got vaccines out to millions of Americans in a matter of months."


Read More: TIME magazine commemorates Biden's first year in office with bleak cover